Sam Blundell
Director
Since joining in 1998, Sam has operated as an IT Manager for several of our clients. During this time he has helped the business evolve and grow significantly. In addition to continuing to cement customer relations via regular onsite visits, Sam is the driving force behind support response and resolution times. He is keen to ensure that customers are never kept waiting and has developed tools and routines to assist the team keep up these high standards of support. In his spare time Sam enjoys being with his family. Sam and his wife, Gemma, have recently welcomed their 3rd young child into the world. Sam is also a very enthusiastic squash player having joined his local Leamington Spa club in 2013. He also enjoys playing golf, when he can find any time to do so!
Steve Jeffs
Senior Support Analyst
Steve joined our team in 2006 and has grown to become the pivotal member of our support staff. Prior to joining us, Steve worked in London as an IT Manager for a large technology company. In addition to occasional site visits, Steve controls our office and overlooks all incoming support requests to ensure they are dealt with in accordance with the strict standards set by the company. He is an excellent trouble shooter and always get to the root of the problem.  Steve is a keen runner and aims to participate in the London Marathon in 2016. He is training hard for this and can often been seen pounding the streets of his native Leamington Spa. With a "never too old to learn a new skill" attitude Steve began learning to play the guitar in 2014, giving him a less high-energy pass-time to go alongside his running.
Lorraine Rowell
IT Support Analyst
Lorraine joined our team in August 2018 after two previous roles as IT Manager within the professional services sector. In the years Lorraine has been with the company she has gained an excellent understanding of our customers and the bespoke systems they use. Lorraine's warm telephone manner and commitment to solving problems has made her a popular addition to the Inside IT team. Lorraine is an avid Sky Blues fan and in her spare time (which she admits to not having much of) she also enjoys photography and running.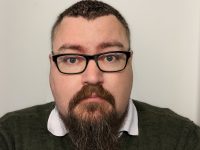 Gareth Roberts
IT Support Analyst
Gareth joined our team in September 2019. He arrived with extensive experience in IT Support which he has developed significantly in the years since. Gareth is a fan of Sci-Fi and keeping up with technology. In his spare time he enjoys bribing his horses with treats and tinkering with motorbikes.