Evolve Your Communications With Inside I.T. Solutions and 3CX Phone System for Windows
At Inside I.T. Solutions we realise that most Small to Medium Businesses want to source all of their IT and Communications needs from a single provider. We not only provide IT Management and Support but we also supply, install and support 3CX Phone Systems. 3CX provides a phone system that is as small and simple or as large and complex as you could possibly want. Move to 3CX Phone System – an award-winning open standard Windows-based IP PBX that replaces traditional proprietary hardware PBX whilst providing enterprise-style features at a fraction of the cost.
Lower your company's call costs and truly globalize your business by leveraging VoIP Providers and bridging your offices for free inter-office calls.
Increase mobility by allowing your employees to take their office extension with them wherever they go.
Increase productivity with Unified Communications features that allow you to setup conference calls and web meetings in a matter of seconds and see the presence of your colleagues.
3CX Phone System supports popular SIP phones, VoIP providers and traditional PSTN lines. The web-based management console makes it easy to configure, eliminating the need to hire expensive telecom consultants. Step into the future of web conferencing with 3CX WebMeeting – the new and unparalleled video conferencing platform which leverages WebRTC Technology for a seamless, user-friendly experience with no need for additional plugins or software.
10 Advantages of 3CX Phone System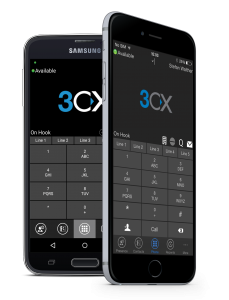 Software based: Easy to install & manage
Inexpensive to buy and expand
Work from anywhere with iOS & Android clients
Leverage existing IT infrastructure & Server hardware
Save on your phone bill with SIP Trunks & Mobile / Remote clients
Integrated video conferencing using WebRTC
Better customer service with advanced call queues
Integrate with CRM & Accounting software
Standards based – use popular IP Phones, SIP Trunks
Click 2 Call from your website
You can view the
3CX Datasheet
, the
3CX Phone System brochure
, or the
3CX WebMeeting datasheet
to find out how your business can cut costs and increase productivity by leveraging IP Telephony and WebRTC technologies. If you are interested in learning more about how Inside IT Solutions and 3CX Phone System for Windows could benefit your business, or indeed if you would like a free demonstration, then please contact us on 01926 340015 or 0845 47 555 49 or fill out the contact form to the right and somebody will be right back to you. Inside IT Solutions : Dedicated support for your business