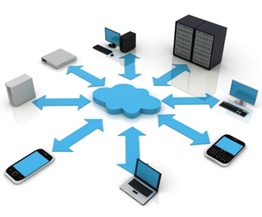 With the increased amount of data being stored on your computers and servers one of the biggest challenges facing business is how to secure that data both in terms of security from loss of data and security from data being accessed by unauthorised people. Traditionally servers have been backed up to tape cartridges probably 5 nights a week with a limited rotation of tapes. This means you have only a limited number of options to restore from. Tape drives are expensive as are the tapes which need to be replaced at regular intervals. Traditional backup software can also be expensive. Over the course of the life of the server your tape drive could fail and need replacing. Then you have issue of tapes being taken offsite to cover against fire/flood etc. This represents a security risk in terms of the tape catridges being lost and someone accessing the data contained on them. As for your desktops and laptops they will hardly ever get backed up leaving data at even greater risk of loss.
With the increased availability of high speed Internet connections and Inside I.T. Solutions Offsite Backup there is another way.
Inside I.T. Solutions Offsite Backup Combines Bare Metal Backup and Recovery with Exchange Granular Backup and Recovery.
Inside I.T. Solutions Offsite Backup for Business offers ideal backup and security features for your business. Your backups will be fast, safe, and reliable.
Inside I.T. Solutions Offsite Backup for Business offers the following features:
Unlimited recovery points for your File & Folder backups

Backup and recover Exchange, SQL, SharePoint, and more

Full local bare metal backup and recovery – send your backup images safely to our UK Data Centre

Exchange Granular Recovery allows you to backup and recover by mailbox and by message

Backup and recover laptops, workstations, fileservers, and files and folders.

Military-grade encryption – three-tiers of protection for your business data

Send transactionally consistent bare metal images of your backups to the Data Centre
If you are interested in learning more about how Inside IT Solutions Offsite Backup could benefit your business then please contact us on 01926 340015 or 0845 475 5549 or fill out the contact form to the right and somebody will be right back to you.
Inside IT Solutions : Dedicated support for your business